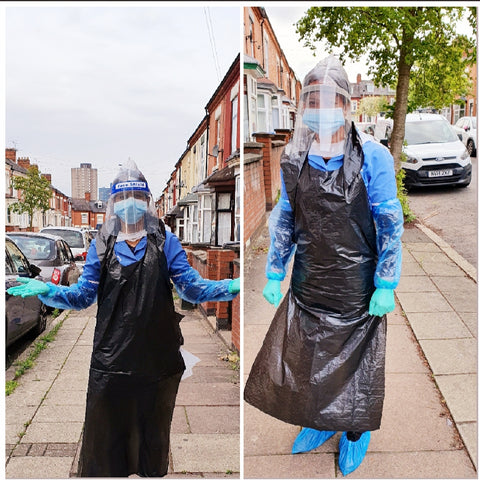 Make Your Own PPE Movement in UK
Amid all the other changes brought by Covid-19, the way that we interact with each other -- and the 
type of clothing that we purchase -- has so drastically changed over the last several months.  As our working and educational environments have become virtual, we are spending less (or at least differently) on clothing.  And face masks have now become de rigueur when we venture out to public spaces.  
To that end, VPL is offering a limited edition run of face masks using British-style shirting fabrics, as well as Japanese-inspired prints, sourced from high-quality Japanese mills.   The masks are proudly made in Southern California, by a female-owned factory.  
In order to help serve our world's growing need for PPE, and to help manufacturers transition to a new production world, VPL has forged a partnership with Gambit Enterprises of Leicester, UK.  Proceeds from the sales of VPL's mask collection will fund PPE production by Gambit (every three masks purchased will enable the production of one UK-made PPE gown).  Gambit is donating PPE to many worthy users in the UK, including schools, hospitals, special needs children, and caregivers. 
Gambit Enterprises is a small, family-owned business which manufactures and sells school uniforms.   Currently run by Jonathan Newham, Gambit was founded in 1980 by Jonathan's father.  An evident labor of love and pride for Jonathan, the company was originally born of necessity: as Margaret Thatcher's anti-manufacturing policies in the 1980s destroyed British manufacturing jobs, those affected by the job destruction – like Jonathan's father – were spurred to create their own opportunities in entrepreneurship. 
The area of Leicester, several hours north of London, is a hub of textile manufacturing.  Gambit's headquarters sits among other related businesses: Jonathan's next door neighbor, for example, owns the machinery that manufactures many of the school garments designed and marketed by Gambit.  
While traditional suppliers like Jonathan take great pride in their local, high-quality manufacturing – and the jobs that they provide for the region – they have faced significant headwinds.  It's a story with which we are familiar in the US as well – offshore, low-cost manufacturing and internet storefronts have supplanted small business, leading to job loss and local economic distress.  Yet, in the face of this offshore competition, it is heartening that Jonathan and Gambit have carried on.  This is, of course, a good thing -- for local economies and jobs, and for a society more generally, as it has become clear that control over production capacity is required to ensure the resiliency of our supply chains. 
As life begins, we hope, to get back to some sort of normal, we will all undoubtedly reflect on the lessons learned from our experiences over the past few months.  Among these, we will all need to grapple with how our values inform the purchasing choices that we make, and how (and to whom) we want to direct our dollars, pounds, Euros, or Bitcoin.  At least one can say, with confidence, that VPL's  extremely stylish (and functional) masks are a worthwhile place to start.
--Andrew Jacobs