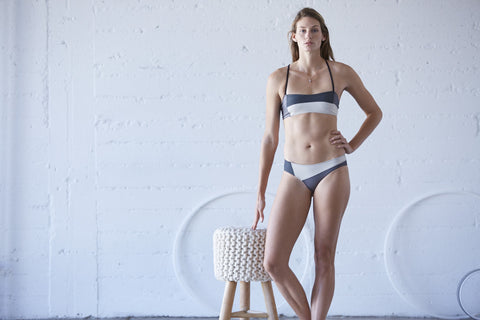 Work out with Alesha Deesing
CAN YOU TELL US ABOUT YOUR FAVORITE GETAWAY?
I love adventure and visiting new places and experiencing different cultures and ways of life. I'm a huge fan of the South of France (lived there for 4 years – going back for a visit this summer) and I also love Italy. I have fond memories of riding on the back of a motorcycle exploring the city of Gallipoli in the South of Italy. Most recently, I enjoy going to San Francisco and Death Valley.

Gallipoli, Italy

BEST TRIP YOU EVER HAD FOR YOUR HEALTH AND FITNESS AND WHAT DID YOU DO?
I went to the Cayman Islands with two of my best friends and did a bunch of water sports for the first time: snorkeling, paddle boarding (not my first time), paragliding, swam with stingrays/turtles, got seasick. It was a blast! Also, played beach volleyball and did yoga.
@aleshadeesing Instagram

PLAYLIST GO-TOS? Chet Faker, Disclosure, Calvin Harris, Pop Mash-ups, Michael Jackson, Led Zepplin, Bob Marley, Nu-disco, Classical


WHAT KIND OF WORKOUT DO YOU DO? For 7 years, I did professional indoor volleyball in Europe. Then, I moved to Huntington Beach a little over a year ago to pursue my jewelry business and now I do primarily: Beach volleyball, yoga, weight lifting, and occasionally go for a run.  

 


WHY DO YOU LIKE IT? WHAT KIND OF STRENGTH IS IMPORTANT TO HAVE IN ORDER TO BE SUCCESSFUL FOR THE WORKOUT YOU DO?
For volleyball, it is a very explosive and quick twitch muscle sport. So all of the training is explosive and concentrated on short bursts of energy, also known as high-intensity interval training. I am playing mostly beach volleyball now, which is a lot of fun because it presents new challenges such as only having two people on the court verses six so a lot more touches on the ball, factoring in the wind, and of course moving in sand. The most important strength to have to be successful in this sport or life is mental strength to continually push yourself and your limits.

 
WHAT SHOULD SOMEONE WHO IS UNFAMILIAR WITH THE WORKOUT YOU DO BE PREPARED FOR WHEN TRYING IT FOR THE FIRST TIME?
Most things are difficult at first but gets easier over time, little by little. Right now, I am doing yoga. I am not very flexible and it's challenging for me but I'm showing up and feeling myself get better day-by-day. Try focusing on just 1-2 things at first and then once you've mastered those add a couple more. I think a lot of people get overwhelmed trying to put it all together at once and then just get frustrated they aren't doing as well as they'd like. Relax, breathe, stay positive, and keep fighting the voice in your head saying it's enough.

 


ALSO ANY SUGGESTION AS TO WHAT YOU SHOULD WEAR? Comfortable clothing is a must! Beach volleyball – favorite suit is Mizuno, sunglasses (Oakley), sunscreen (Banana Boat Baby), and Sandsocks if you plan to play mid day during the summer! Off the court, I practically live in leggings and I love the new VPL Nihon Legging in Arctice Granite.

 

HOW HAS THE FITNESS SCENE IN YOUR AREA CHANGED THESE PAST FEW YEARS? I am not really sure since I've been outside of the country. Hot yoga and beach volley are definitely more popular here than other areas I've lived. I also love the sunny weather in California, which encourages an active lifestyle.  

 

WHAT'S A TYPICAL WORKOUT WEEK LIKE FOR YOU?
Right now, I'm doing 21 days of yoga in 30 days challenge, along with beach volleyball 1-2 times a week, and weight lifting at least once a week but I'm pushing for 2x a week.

 

WHAT ARE YOUR GO-TO WORKOUT SHOES?
For indoor volleyball, I prefer Asics. ACCESSORIES? Exercise bands to warm-up shoulder and legs, speaker for music, portable charger, a foam roller… And one or two pieces from my jewelry line, Aldia Design.
GYM BAGS? I sport a pretty fierce bright yellow Wolverine canvas bag or my retro leather Pan Am bag.


WHAT IS YOUR FAVORITE HEALTHY EATERY IN YOUR CITY?
Panini Café, Jan's Health Bar, or Saffron Grill

 


FAVORITE HEALTHY SNACK? This past week, it's been Trail Mix with dried fruit  

 
GUILTY PLEASURE? Frozen yogurt with all the toppings


FAVORITE PRE AND POST WORKOUT SNACK?
Pre: small espresso and a banana with peanut butter
Post: Chocolate protein shake or just plain chocolate milk




WHAT'S A FITNESS MYTH THAT DRIVES YOU CRAZY?
If you do abs, you will get a flat stomach or the more cardio you do the more fat you will burn. When actually, cardio with weight lifting (high intensity interval training which means intense work with short recovery) will lower fat content, eventually allowing abdominal muscles to show.


IF WE LOOKED IN YOUR FRIDGE, WHAT WOULD WE ALWAYS FIND?
Greek yogurt


IF WE LOOKED IN YOUR GYM BAG, WHAT WOULD WE ALWAYS FIND?
Um… Deodorant, headphones or a speaker for the beach, and a huge water bottle


HOW DOES MAINTAINING A HEALTHY LIFESTYLE AFFECT YOUR EVERYDAY LIFE IN A POSITIVE WAY?
I have more energy, feel better, and I am more productive.